Week #48 – Challenges in Golf
Golf
On Saturday
| | | |
| --- | --- | --- |
| Problems | Solutions | achievement |
| I was struggling on the front nine | I should do play properly | |
| I did six miss on the fairway (4 to right and 2 to left) | I should reduce it for next time | |
| | | |
| | | I got three par in a row |
| | | I fight back at the back nine |
| | | I got 6 1/2 out of 88 of a percentage for not doing the routine |
On Sunday
| | | |
| --- | --- | --- |
| Problems | Solutions | achievement |
| I was struggling on the front nine | I should do play properly | |
| I did six miss on the fairway (4 to right and 2 to left) | I should reduce it for next time | |
| | | |
| | | I got three par in a row |
| | | I fight back at the back nine |
| | | I got 6 1/2 out of 88 of a percentage for routine |
Study
Me and my brother start on a new website call Codeschool. We first start to learn Ruby then we finish the course and we are up to rails.
Stole Another Goat (Lyrics)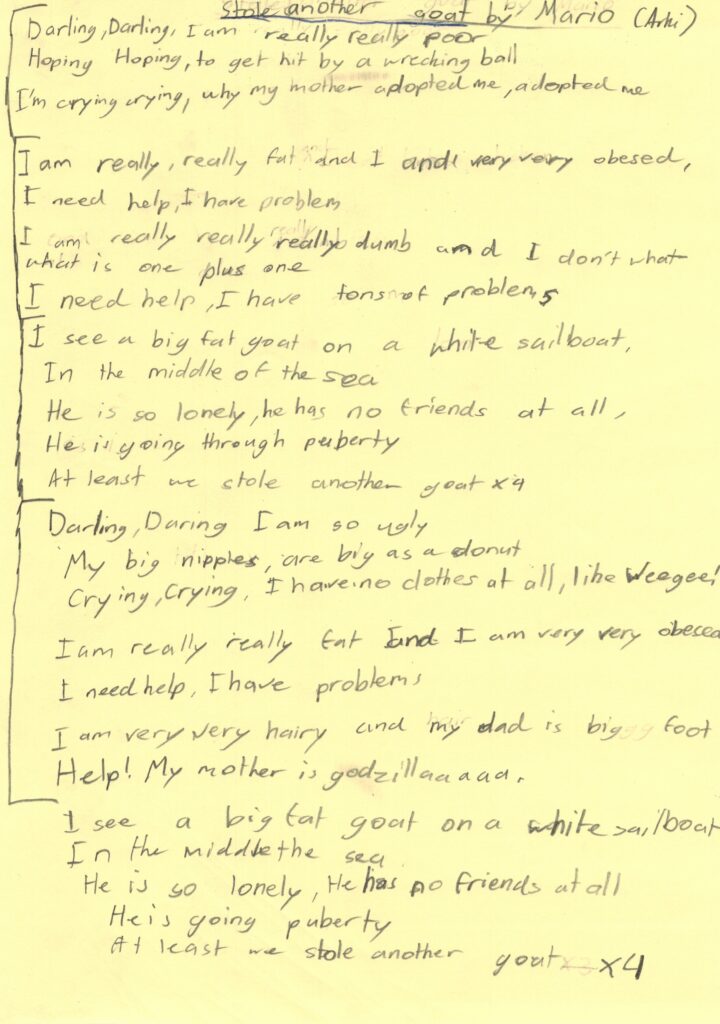 Week #47 – Challenges in Golf
Golf
| | |
| --- | --- |
| Problems | Solutions |
| On putting, I Was rushing my routine | I should take my time to align the ball and look for the brake |
| On the 8th hole I missed my putt for 4 and I start kicking my driver | I should take time and sink the putt in |
| My 3 woods went to the right every time | It was because for reaching out and coming outside than inside |
| I had a lot of three putts today | I needed to focus for getting 1 or 2 putts to sink in the hole |
| I was quick on looking at the back | I need to take my time to align with the target |
We went to Terrey Hills PAR 3 for fun but it was raining so we leave early
Party
On sunday I went to a party at inflatible world .
Week #45 – Last Match-play @ Encourage Shield 2015
Golf
On Sunday it was the last match-play of the season and we played at Concord GC against Northbridge GC. We never play at Concord GC before and we wouldn't play the course until next year. My attitude was bad. I tied with my opponent and my opponent was a girl. You are not allowed to have a caddy when her mum was caddying nearly whole course. My friends complained about it and she ignored us.
On Saturday I played stroke not stable-ford because It was the firs weekend of the month. I played good on the first 15 holes until I collapse on the 16 hole. I think why I collapsed because it kept going right. I got a score of 85 strokes.
Code
On Monday and Tuesday I did coding for one hour each. I finished the 'make a website' section now I am up to PHP.